This is the original email correspondence between MySpace Customer Service and a Myspace user, spookie/Suzanne. (I think she's a blogger as well. ha ha ha)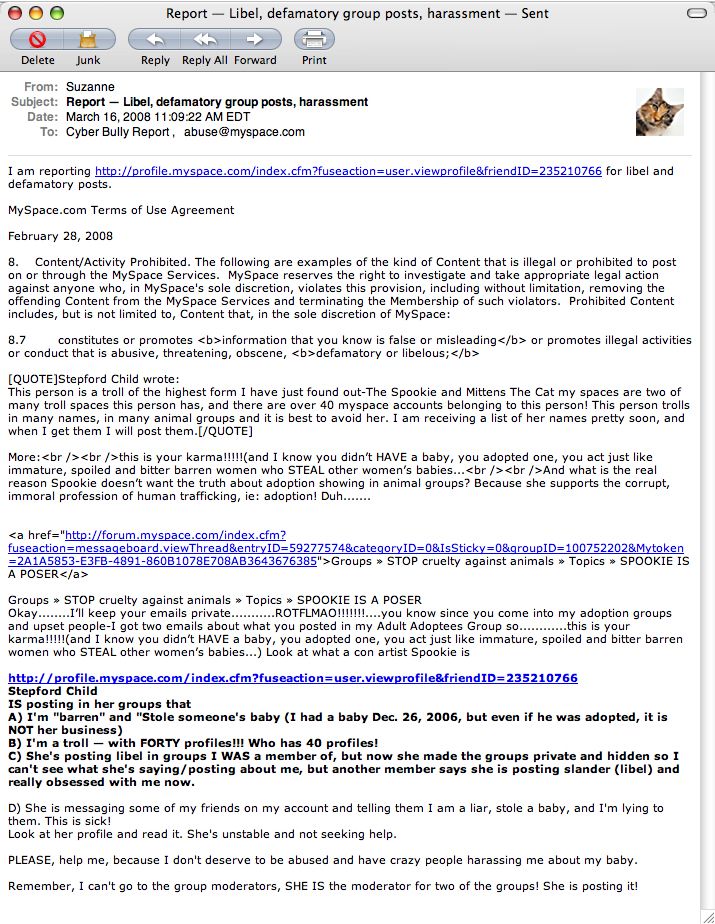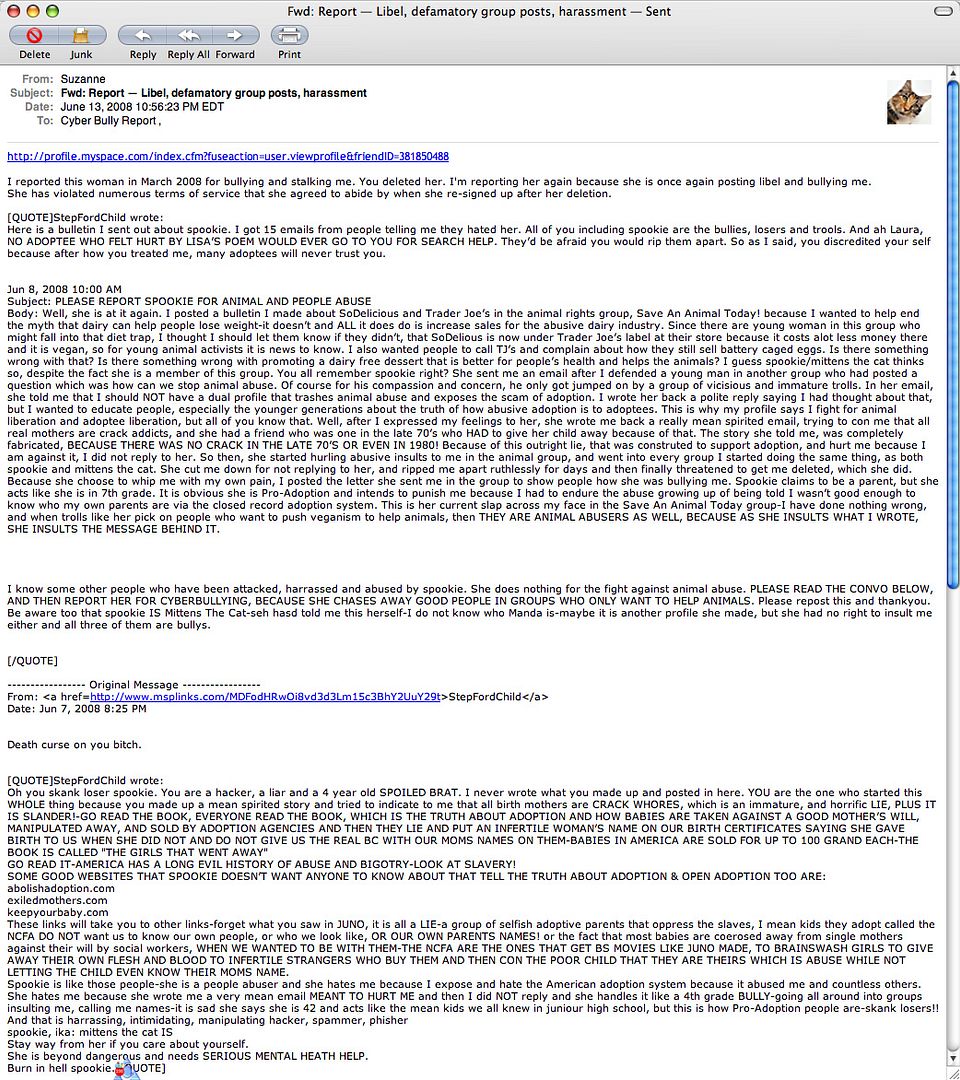 StepFordChild wrote:

Here is a bulletin I sent out about spookie. I got 15 emails from people telling me they hated her. All of you including spookie are the bullies, losers and trools.

And ah Laura, NO ADOPTEE WHO FELT HURT BY LISA'S POEM WOULD EVER GO TO YOU FOR SEARCH HELP. They'd be afraid you would rip them apart. So as I said, you discredited your self because after how you treated me, many adoptees will never trust you.







Jun 8, 2008 10:00 AM
Subject: PLEASE REPORT SPOOKIE FOR ANIMAL AND PEOPLE ABUSE

Body:
Well, she is at it again. I posted a bulletin I made about SoDelicious and Trader Joe's in the animal rights group, Save An Animal Today! because I wanted to help end the myth that dairy can help people lose weight-it doesn't and ALL it does do is increase sales for the abusive dairy industry. Since there are young woman in this group who might fall into that diet trap, I thought I should let them know if they didn't, that SoDelious is now under Trader Joe's label at their store because it costs alot less money there and it is vegan, so for young animal activists it is news to know. I also wanted people to call TJ's and complain about how they still sell battery caged eggs. Is there something wrong with that? Is there something wrong with promoting a dairy free dessert that is better for people's health and helps the animals? I guess spookie/mittens the cat thinks so, despite the fact she is a member of this group. You all remember spookie right? She sent me an email after I defended a young man in another group who had posted a question which was how can we stop animal abuse. Of course for his compassion and concern, he only got jumped on by a group of vicisious and immature trolls. In her email, she told me that I should NOT have a dual profile that trashes animal abuse and exposes the scam of adoption. I wrote her back a polite reply saying I had thought about that, but I wanted to educate people, especially the younger generations about the truth of how abusive adoption is to adoptees. This is why my profile says I fight for animal liberation and adoptee liberation, but all of you know that. Well, after I expressed my feelings to her, she wrote me back a really mean spirited email, trying to con me that all real mothers are crack addicts, and she had a friend who was one in the late 70's who HAD to give her child away because of that. The story she told me, was completely fabricated, BECAUSE THERE WAS NO CRACK IN THE LATE 70'S OR EVEN IN 1980! Because of this outright lie, that was construted to support adoption, and hurt me because I am against it, I did not reply to her. So then, she started hurling abusive insults to me in the animal group, and went into every group I started doing the same thing, as both spookie and mittens the cat. She cut me down for not replying to her, and ripped me apart ruthlessly for days and then finally threatened to get me deleted, which she did. Because she choose to whip me with my own pain, I posted the letter she sent me in the group to show people how she was bullying me. Spookie claims to be a parent, but she acts like she is in 7th grade. It is obvious she is Pro-Adoption and intends to punish me because I had to endure the abuse growing up of being told I wasn't good enough to know who my own parents are via the closed record adoption system. This is her current slap across my face in the Save An Animal Today group-I have done nothing wrong, and when trolls like her pick on people who want to push veganism to help animals, then THEY ARE ANIMAL ABUSERS AS WELL, BECAUSE AS SHE INSULTS WHAT I WROTE, SHE INSULTS THE MESSAGE BEHIND IT.

I know some other people who have been attacked, harrassed and abused by spookie. She does nothing for the fight against animal abuse. PLEASE READ THE CONVO BELOW, AND THEN REPORT HER FOR CYBERBULLYING, BECAUSE SHE CHASES AWAY GOOD PEOPLE IN GROUPS WHO ONLY WANT TO HELP ANIMALS. Please repost this and thankyou. Be aware too that spookie IS Mittens The Cat-seh hasd told me this herself-I do not know who Manda is-maybe it is another profile she made, but she had no right to insult me either and all three of them are bullys.



Begin forwarded message:

From: Suzanne (ME)
Date: June 13, 2008 10:56:23 PM EDT
To: Cyber Bully Report, Abuse
Subject: Fwd: Report — Libel, defamatory group posts, harassment

http://profile.myspace.com/index.cfm?fuseaction=user.viewprofile&friendID=381850488

I reported this woman in March 2008 for bullying and stalking me. You deleted her. I'm reporting her again because she is once again posting libel and bullying me.
She has violated numerous terms of service that she agreed to abide by when she re-signed up after her deletion.



----------------- Original Message -----------------
From: StepFordChild
Date: Jun 7, 2008 8:25 PM


Death curse on you bitch.


StepFordChild wrote:
Oh you skank loser spookie. You are a hacker, a liar and a 4 year old SPOILED BRAT. I never wrote what you made up and posted in here. YOU are the one who started this WHOLE thing because you made up a mean spirited story and tried to indicate to me that all birth mothers are CRACK WHORES, which is an immature, and horrific LIE, PLUS IT IS SLANDER!-GO READ THE BOOK, EVERYONE READ THE BOOK, WHICH IS THE TRUTH ABOUT ADOPTION AND HOW BABIES ARE TAKEN AGAINST A GOOD MOTHER'S WILL, MANIPULATED AWAY, AND SOLD BY ADOPTION AGENCIES AND THEN THEY LIE AND PUT AN INFERTILE WOMAN'S NAME ON OUR BIRTH CERTIFICATES SAYING SHE GAVE BIRTH TO US WHEN SHE DID NOT AND DO NOT GIVE US THE REAL BC WITH OUR MOMS NAMES ON THEM-BABIES IN AMERICA ARE SOLD FOR UP TO 100 GRAND EACH-THE BOOK IS CALLED "THE GIRLS THAT WENT AWAY"
GO READ IT-AMERICA HAS A LONG EVIL HISTORY OF ABUSE AND BIGOTRY-LOOK AT SLAVERY!
SOME GOOD WEBSITES THAT SPOOKIE DOESN'T WANT ANYONE TO KNOW ABOUT THAT TELL THE TRUTH ABOUT ADOPTION & OPEN ADOPTION TOO ARE:
abolishadoption.com
exiledmothers.com
keepyourbaby.com
These links will take you to other links-forget what you saw in JUNO, it is all a LIE-a group of selfish adoptive parents that oppress the slaves, I mean kids they adopt called the NCFA DO NOT want us to know our own people, or who we look like, OR OUR OWN PARENTS NAMES! or the fact that most babies are coerosed away from single mothers against their will by social workers, WHEN WE WANTED TO BE WITH THEM-THE NCFA ARE THE ONES THAT GET BS MOVIES LIKE JUNO MADE, TO BRAINSWASH GIRLS TO GIVE AWAY THEIR OWN FLESH AND BLOOD TO INFERTILE STRANGERS WHO BUY THEM AND THEN CON THE POOR CHILD THAT THEY ARE THEIRS WHICH IS ABUSE WHILE NOT LETTING THE CHILD EVEN KNOW THEIR MOMS NAME.
Spookie is like those people-she is a people abuser and she hates me because I expose and hate the American adoption system because it abused me and countless others.
She hates me because she wrote me a very mean email MEANT TO HURT ME and then I did NOT reply and she handles it like a 4th grade BULLY-going all around into groups insulting me, calling me names-it is sad she says she is 42 and acts like the mean kids we all knew in juniour high school, but this is how Pro-Adoption people are-skank losers!!
And that is harrassing, intimidating, manipulating hacker, spammer, phisher
spookie, ika: mittens the cat IS
Stay way from her if you care about yourself.
She is beyond dangerous and needs SERIOUS MENTAL HEATH HELP.
Burn in hell spookie.


I moderate TWO groups, and this woman is banned from both. She has called my son a bastard child, and she has posted bulletins to strangers asking them to report me, people who do not even know me or have contact with me.

Back in Mach/April, I begged Myspace to take of this woman's abuse. You finally did. She was posting in private groups I was not a member of, asking for people to report me, and she was pretending to be a victim.

She has also posted that I'm a troll, spammer and a hacker. She is trying to convince people that I am a threat. This was her motive in march as well.

Here is the OLD report I sent in, just so you see this is a repeat of her old stalking and bullying of me.

Fwd: Report — Libel, defamatory group posts, harassment


Begin forwarded message:

From: Suzanne (ME)
Date: March 16, 2008 11:09:22 AM EDT
To: Cyber Bully Report, Abuse
Subject: Report — Libel, defamatory group posts, harassment

I am reporting http://profile.myspace.com/index.cfm?fuseaction=user.viewprofile&friendID=235210766 for libel and defamatory posts.

MySpace.com Terms of Use Agreement

February 28, 2008

8. Content/Activity Prohibited. The following are examples of the kind of Content that is illegal or prohibited to post on or through the MySpace Services. MySpace reserves the right to investigate and take appropriate legal action against anyone who, in MySpace's sole discretion, violates this provision, including without limitation, removing the offending Content from the MySpace Services and terminating the Membership of such violators. Prohibited Content includes, but is not limited to, Content that, in the sole discretion of MySpace:

8.7 constitutes or promotes information that you know is false or misleading or promotes illegal activities or conduct that is abusive, threatening, obscene, defamatory or libelous;

Stepford Child wrote:
This person is a troll of the highest form I have just found out-The Spookie and Mittens The Cat my spaces are two of many troll spaces this person has, and there are over 40 myspace accounts belonging to this person! This person trolls in many names, in many animal groups and it is best to avoid her. I am receiving a list of her names pretty soon, and when I get them I will post them.

More: this is your karma!!!!!(and I know you didn't HAVE a baby, you adopted one, you act just like immature, spoiled and bitter barren women who STEAL other women's babies...And what is the real reason Spookie doesn't want the truth about adoption showing in animal groups? Because she supports the corrupt, immoral profession of human trafficking, ie: adoption! Duh.......


Groups » STOP cruelty against animals » Topics » SPOOKIE IS A POSER

Groups » STOP cruelty against animals » Topics » SPOOKIE IS A POSER
Okay........I'll keep your emails private...........ROTFLMAO!!!!!!!....you know since you come into my adoption groups and upset people-I got two emails about what you posted in my Adult Adoptees Group so............this is your karma!!!!!(and I know you didn't HAVE a baby, you adopted one, you act just like immature, spoiled and bitter barren women who STEAL other women's babies...) Look at what a con artist Spookie is

http://profile.myspace.com/index.cfm?fuseaction=user.viewprofile&friendID=235210766
Stepford Child
IS posting in her groups that

A) I'm "barren" and "Stole someone's baby (I had a baby Dec. 26, 2006, but even if he was adopted, it is NOT her business)

B) I'm a troll — with FORTY profiles!!! Who has 40 profiles!

C) She's posting libel in groups I WAS a member of, but now she made the groups private and hidden so I can't see what she's saying/posting about me, but another member says she is posting slander (libel) and really obsessed with me now.

D) She is messaging some of my friends on my account and telling them I am a liar, stole a baby, and I'm lying to them. This is sick!
Look at her profile and read it. She's unstable and not seeking help.

PLEASE, help me, because I don't deserve to be abused and have crazy people harassing me about my baby.

Remember, I can't go to the group moderators, SHE IS the moderator for two of the groups! She is posting it!

MYSPACE REPLY:
(you can tell other people had reported her, since they say she is already in queue for deletion)


From: help@support.myspace.com
Subject: Re: Fwd: Report — Libel, defamatory group posts, harassment [ref:00D78NrS.500766ExC:ref]
Date: June 16, 2008 11:21:17 AM EDT
To: ME
Reply-To: help@support.myspace.com

Hello,
Thank you for bringing this profile to our attention. The profile in question has already been or is scheduled to be removed. If you have any further questions or concerns, please reply to this email directly, keeping the subject line and footer information intact.

Thank you,
MySpace.com
Customer Care
---------------
Survey Feedback


Tell us how we're doing. Click here to let us know what you think! Please note, MySpace will NEVER ask you for your password as part of our survey feedback. We appreciate you taking the time to share your opinion with us.


DO NOT DELETE:
--------------
CN:14762060:CN
LUID:00570000000sbNT:LUID
LQID:00G70000000ySuk:LQID
ref:00D78NrS.500766ExC:ref[/QUOTE]


Here is Improper Adoptee's original post of the bulletin she sent out on Myspace.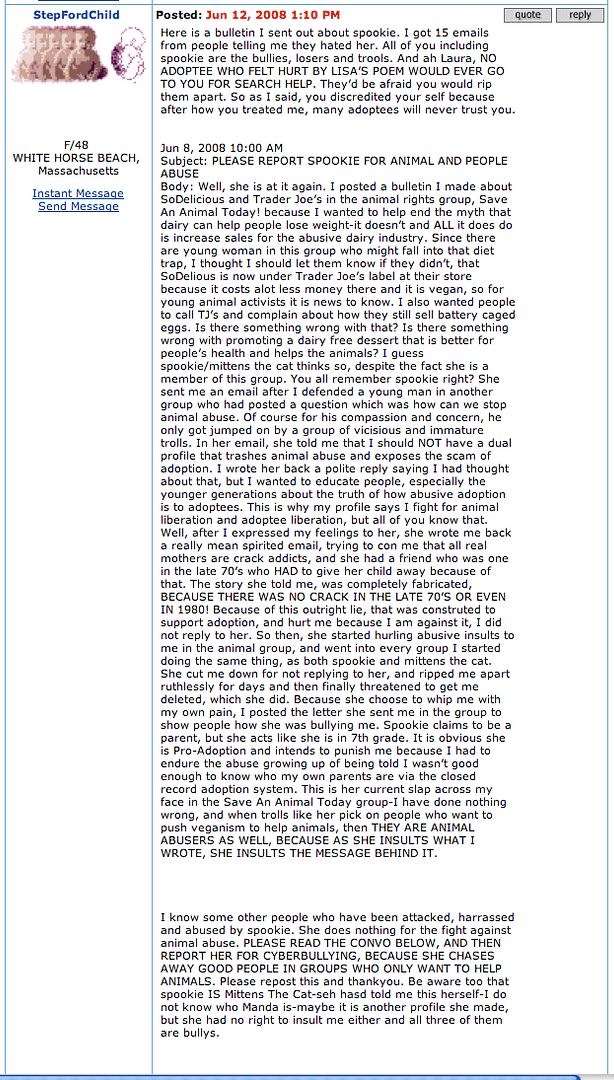 This is the post of the email exchange. It might be easier to read in JPG format.

There are no lies. The bulletin that is shown, that Stepford Child, The Improper Adoptee posted can still be found on Myspace — quoted by an active user in an adoption group. Her profile may be gone, but her words, if quoted by others when responding back then, remain.
She's a liar and a backstabbing creep. She only is your friend if you abide by her rules and you never dare ask about adoption in a manner that might be insinuating that an adoption situation you know of was a positive one for somebody out there.
"Okay........I'll keep your emails private...........ROTFLMAO!!!!!!!"
—The Improper Adoptee