MEET MY CYBERBULLY AND STALKER.

SHE CALLS HERSELF "THE IMPROPER ADOPTEE." She has also been known as "StepFord Child" and "StepfordChild," "Native Warrior" and "Burned." There are probably other identities she has taken on. She currently uses "anonymous" when posting to her own blog and other users' blogs. She's cruel, selfish and heartless. She will never hold back, and will always play the victim card. She's a serial bully. I'm not her first victim, and I won't be her last, unless she is stopped.
You can't just make this stuff up.
THE IMPROPER ADOPTEE. A poster child for people gone wrong. Living proof that abuse, regardless of if the child is adopted or is your own natural child, will grow up and become one messed up adult. This woman is no gentle hand on your shoulder. Maybe if you follow her rules she is, but not if you dare do anything
she
feels is dishonest, and that could be anything, even something very honest and done because you felt you were on good enough terms to ask questions and have conversations that were deeper than talking about idiots. Be careful. This is no compassionate ear that listens when you need it, but a heartless knife that will stab you in the back. Watch what you say. This is no psychic. This is a
psychotic
.
The following lists,
Villains, Blog Archive
and
Labels
are pulled directly off
The Improper Adoptee
's blog. I've included the Archive because it clearly shows how many blogs are
NOT
about adoption issues.
Blog Archive
Labels
This is for all the puppets, the idiots,
the total strangers
who came out of the woodwork to tell me off and say that I was harassing their poor victimized friend The Improper Adoptee (in September or October 2008) when they had managed to overlook their own friend's blog, and completely missed all the libel, abuse and mockery that this sick, deluded bitch was posting about me since May 2008 on her Blogger site. Let's not forget that this is just the libel and hate she's posted on Blogger. She began her sick obsession with me long before the blogging world. I said it before and I'll repeat it here: I reported this woman in March 2008 after putting up with her for long enough. She'd violated far too many Terms of Service on Myspace, and I decided to just have her removed. With real evidence, they will delete you. All I had to do was give Myspace the URL's to IA's (then known as StepFord Child) harassment of an adoption group, her posting of a hate bulletin full of libel and defamatory comments and links to many other posts in numerous groups in which StepFord Child was harassing users for their opinions, opinions that Improper Adoptee didn't/doesn't agree with, and so she felt/feels she must attack those users. The Improper Adoptee cried wolf on her blog, claiming I hacked her profile and somehow faked evidence to fool MySpace into having her account deleted three times. Oddly, she says it was 4 times, which means the sock puppet account named "Native Warrior," which came out of the blue and attacked me for no reason at all, was indeed StepFordChild. ("Native Warrior" never posted anywhere prior to StepfordChild/Improper Adoptee's deletion, and suddenly appeared after Improper Adoptee was permanently banned from Myspace) That would make 4 deletions and explain her statement about being deleted from that site a total of 4 times.
It's very difficult to have anyone deleted from MySpace, unless they are a pedophile. MySpace makes you jump through hoops like a circus seal. You can send them screenshots and include URL's to match up with the screenshots, and Myspace with reply, asking you again for URL's. Sometimes you wonder if there's a human behind Customer Care, or a very stupid bot that hasn't yet passed the training stage in software development. IA/SC/anonymous was not deleted until a real, live human looked over all of her posts in all the groups I linked to, and decided "YES, she has to go." I wasn't the only one who reported her either. She'd been reported for bigotry, racism, anti-semitism, hate comments, cyberbullying, abuse, harassment…I think anyone reading this gets the point.
Oddly, only the adoption users and myself ended up on this lunatics "HATE LIST," or "HIT LIST." It can be called a
hit list
because now and then, Improper Adoptee attacks a couple of us in her comments on others' blogs, or in her own blogs or her own comments to herself.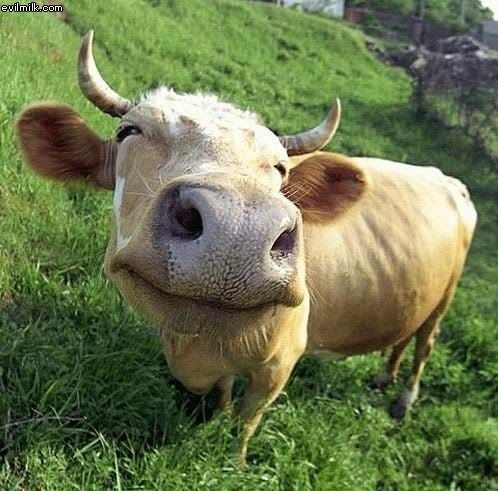 Has anyone noticed that many of Improper Adoptee's friend are carnivores? I mention this because on MySpace, if you were a meat eater, you were subjected to her hateful posts almost daily. Improper Adoptee ripped into omnivore humans all the time in various animal groups, yet never does the same to her adoptee friends. Why the exception?
I noticed that she is close (as in "net-pals") with some bloggers who love meat, and yet she bites her tongue and doesn't dare say anything about their love of eating that cute, smiley cow or that adorable little pig. Why isn't she ripping into them? Why was it okay for her to rip into total strangers all over the internet, but when it comes to follow anti-adoption adoptees, she can hold back her AR rantings? Why isn't she pushing her vegetarianism on her adopted pals who love to BBQ, and not for its grilling of vegetables? While on this topic briefly,
why isn't IA VEGAN?
If she is so concerned about the treatment of animals, shouldn't she be a strict vegan? She claims, after all, that her problem with me is because I said something about her Trader Joe's post, which referred to the abuse of dairy cows.
The Improper Adoptee has surely read the blog entry about me over and over again, so she knows this particular section I am quoting, just to show what a hypocritical dolt she is.
Here's words written by KITE KAMP GIRL/Amy Adoptee:
There are very strict rules with dogs and cats on a ranch anywhere in this country. If a dog goes after livestock, sadly he does get put down. If a dog kills that livestock, he gets put down. The rule even extends to killing cats for us. If a cat or dog attacks a child or human being, it gets put down. We have sent horses back to the remuda (horse herd) because they were not able to be controlled or did not have any manners. We also kill rattlers out here. Our cats eat tons of mice. We put down skunks, raccoons, hogs, and rattlers. Skunks can be rabid. Raccoons eat all the cat food. Hogs destroy pens. Rattlers are just plain poisonous and deadly. Coyotes tend to kill livestock as well. They get shot.
Had that been posted on MySpace, "StepFordChild would have ripped into the poster and not only attacked like a rabid…hmmm, I can't say animal because even they act more appropriate, but you get the gist here. After that, she'd send out bulletins and post those same bulletins to as many groups as possible, linking back to the original poster's profile and asking for "people to tell this __________ off and ___________ and make sure you let them know they should drop dead, I hope they DIE!!!!!!!" Don't think so? I can link you to some MySpace posts where she doesn't this.
I'm the moderator of a group called "STOP Cruelty Against Animals," and it's not about food, it's about abuse — by people — and has a guideline on the main page about food discussions not being allowed to turn into fights. I don't allow veg. vs meat topics. IA/SC always fought with members of the group about what they chose to eat. It's why she was always getting into fights. She didn't know when to just shut up.
As for The Very Improper Adoptee's friends, the friends who supposedly have lied along with her, I feel sorry for them. Gershom for example. Gershom's email was easily available. IA claims I had to "hack" Gershom to get it. I quote IA's libelog:
"So how DID spookie get Gershom's email? She hacked her of course. And no, it wasn't ME who said she was harassing Gershom daily, Gershom said she was being harassed by this vampiric abuser which she was."
How hysterical. Does Gershom believe this? Who knows. I assume so, since Gershom has never once said differently. If Gershom's smart, she knows where her email is public. She's a blogger; her email is available on one of those pages within one of her blogging areas. I exchanged 3-4 emails with her, and when she said she didn't want a reply, I never replied again. When she emailed
me
again, asking for more information, I decided no, I was not going to reply to her, because she had pre-judged me and she had said some cruel and ignorant things that made me feel she couldn't be trusted. She said not to reply, and I sure wasn't go to. I didn't need someone claiming I was harassing them to have "evidence" by my replying to her questions, valid or not, and her question was valid — I just couldn't answer it because I didn't have a right to. What she'd asked for was information I wasn't able to give her; it was not my group or forum and I didn't have the right to overstep the moderator and give her the URL to a private and hidden area. IA claims Gershom received 100 posts to her blog, from me. That's just something I laughed at, because it was so untrue, and there was no reason for it. Gershom didn't blog about me and Gershom didn't say anything libelous or post hate. Improper Adoptee loves her lies! It was pretty pathetic when Gershom didn't have the maturity or the decency to admit that what The Improper Adoptee claimed was simply untrue. She even continues to back up IA's lies with a post to another bullshitter, Amy.
Gershom said...

yeah thats just outright lame. They tried the same thing with me and my blog. sooo lame.


3:21 PM
So Gershom, who is "they?" Maybe you should clear that up, or would you rather ignore it like you ignore everything else? I had a very small few exchanged via email with you, and no posts to your blog. What would you like to concoct?
Yes, Gershom, SO LAME.
The Improper Adoptee said: Hugs to Amy, Gershom, Cassie and my Attorney....:)
Yeah, your attorney. Are you paying this person? He/she doesn't seem to be doing much. I think these "attorney" comments you enjoy throwing out here and there are just for show.
Now let's get down to business, Improper. Why did you lie? You said on September 8th, in your insane rambling nonsense of a blog, that it was your LAST MESSAGE. Why didn't you shut the fuck up?!? Why are you still at it? Where are the cops? The hackers?
You know what makes you an even bigger ass? The fact that you actually think you're being stalked, bullied or whatever, because:
"PREDJUDICED AGAINST ME BECAUSE I AM A BASTARD AND AM ADOPTED"
Monday, September 8, 2008
Awesomesaid...

Hey, Stepford Chick! Do you remember me? I'm Vestigial Thumb! I'm just posting to congratulate you on your new pro-adoption blog but also to note that I'm not on your list of friends with Spookie, which is sort of disappointing because I did have a lot of fun with you Mostly I'm just looking for acknowledgement

Anywho, bye!

The Improper Adoptee said...

You call it fun, I call it abuse, which it was-tormemtning me in my Animal Rights group with Chainsaw, who kept coming in and saying horrible things.(while both of you tortured other animal right activists in other groups all the time) DO NOT SEND ME ANY MORE COMMENTS YOU ANIMAL RIGHTS ACTIVIST ABUSING TROLL. (who is probably spookie too)


(Funny, Improper Adoptee, I called YOU insidious, insipid and mean spirited! You like to use my words, don't you?)
While culling IA's Libelog, I found this comment:
There are so many people who are Pro-Adoption on line (and some makecopy cat profiles of other people as well) who pretend they are Adoptees happy that they are Adopted, etc, etc, etc...
Now I have no reason to lie for another person, but my friend is happy. This is why StepFordChild originally went after me. If murder was legal, I'd be dead. Because my friend is content and was happy that her foster family decided to legally adopt her, StepFord Child decided I had to be lying and therefore I deserved to be bullied and abused for as long as possible, and not only that, I needed to be punished. I had to be put in my place for telling such a horrid adoption story, one that doesn't fit her agenda, one that had to be a lie, because God forbid there is even one adopted person out there who isn't a disgruntled person. My friend knows her real family, and knew her real mother. She has no questions about her original birth certificate. Her situation is not like others at all. This didn't change The Improper Adoptee's view on her adoption. To IA, it was still all a lie. When something is not how IA insists it is, it must be a lie or it can't be said, written, put on the internet or uttered to another, or you (or the person who has dared to say it or write about it) will pay the consequences.
Before this UTTER NUTTER ever stalked me, I had never paid much attention to adoption of humans. I'm not adopted, my child is not adopted and no one in my immediate family is adopted. I have a nephew who is forever screwed because my cousin gave her brother legal guardianship of her son, and had she chosen adoption, she could have gotten him back when she changed her mind 5 weeks later. She had twins, and at the time, she was in a mental state that was not stable. Legal guardianship basically screwed her. My other cousin, my nephew's "father," is a horrible parent who steals his birthday and holiday money, teaches him nothing good for his future as an adult and wanted him to go into the military because, as he told my nephew, college is expensive and "you're too stupid to go to college. I went into the military, and you should because you're just not smart and only smart people go to school." I'm so glad my nephew doesn't call him "Dad." To make things even "happier," the mother figure is bipolar and makes sure to announce this at every gathering. It's her excuse for acting out, or being rude. She had gotten a huge inheritance a couple of years ago, and instead of using it for the family, or to help with rent, she bought herself a tremendous wardrobe, all designer, and didn't leave anything for even a few month's rent. The wardrobe, designer and expensive, looks like it could've been bought at any mall store, is matronly, and she wears it to her job as a librarian. That was far more important than caring for my nephew, or making sure she and her hubby, my idiot cousin, had a roof over their heads.
I think it's time I just post ALL of The Improper Adoptee's LIBELogs that are labeled with my nickname. That should suffice is showing just how ill this woman is, and also prove was a farce her blog really is. She blogs here and there about anti-adoption, but her real reason for starting her blog? HATE.
Showing posts with label
spookie
Show all posts
Saturday, November 1, 2008
Wednesday, October 8, 2008
Wednesday, October 1, 2008
Monday, September 15, 2008
Thursday, September 11, 2008
Wednesday, September 10, 2008
Tuesday, September 9, 2008
Monday, September 8, 2008
Wednesday, September 3, 2008
Thursday, August 28, 2008
Wednesday, August 27, 2008
Thursday, August 21, 2008
Tuesday, August 19, 2008
Saturday, July 12, 2008
Monday, May 26, 2008