Before I begin this entry, I'd like to repeat to The Improper Adoptee:
STOP HARASSING, CYBERBULLYING
and THREATENING ME.

I've asked you over 50 times since this year began. STOP.
Any legal action that results from your abuse will most likely include your other victims, not only me. Yes, there's others who are interested in taking legal action. Please stop now, before you go too far and you don't get the results you seem to believe you're going to get.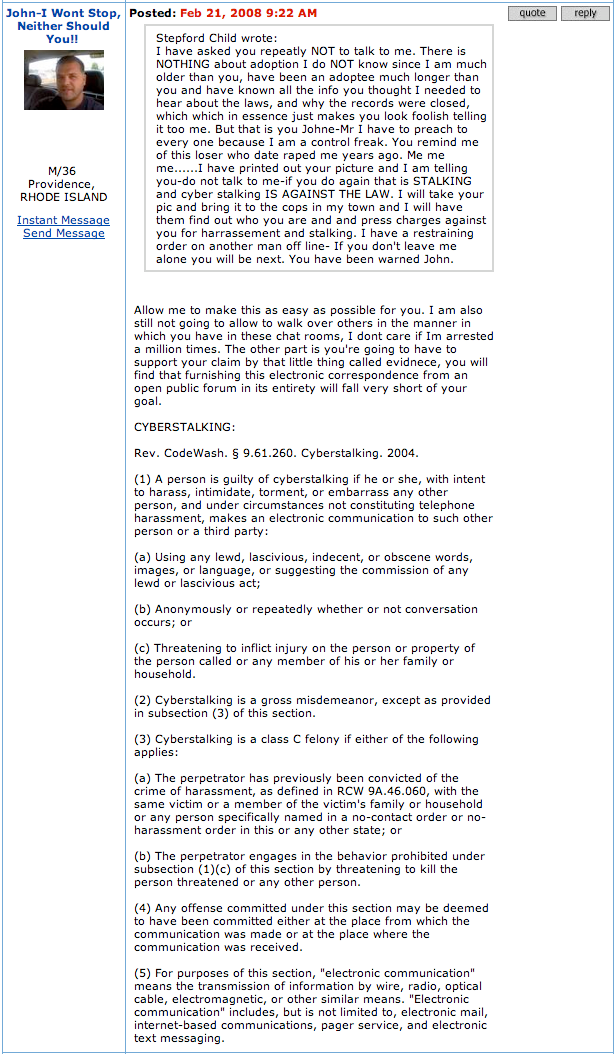 As you can see, she threatened John here with cyberstalking. She told him the same load of crap she told me. Note the date, too. February 2008. After she didn't get anywhere with John, she moved onto me. She began harassing me in March 2008. I don't think that is a coincidence at all.
There's a boatload more. Not a rowboat, an ocean liner. This will prove I've never lied, and the libel is all on The Improper Adoptee's blog. SHE IS A CYBERSTALKER. I am a Gatherer of Evidence.
Does anyone recognize this type of bashing? It's exactly the same accusations she used towards me, right down to calling him a poser and saying he probably abuses animals. She doesn't even change her method of abuse, she just moves from victim to victim. Each victim is always a "Pro-Adoption" troll, poser and "knows they've been beat." She always brings up a womanizer, as she just accused me of most likely being a man, and she always calls the victims ugly in appearance. She even calls the user who posted above John ugly. She ripped apart everybody in the topic, actually. I'll post the thread in it's entirety. It's getting prepped.
I've mentioned before that StepFord Child liked to claim she was having her supposed boyfriend put "native american death curses" on us. She'd post it now and then, to whomever it was she was furious with. Here she is claiming "it's time" to have her "bf" put a curse on "edge," an adoptee (the one she calls a crack dealing pimp), and then she "LMAO's" about what she claims supposedly happened to the last person this native american boyfriend put his death curse on. She'd sent me messages with the Subject:
LMAO
and the Body:
Death curse on you bitch!
I guess that's how her Native American boyfriend does death curses these days. No more old fashioned spells, these days it's a simple email or Myspace message!
*twirls finger at side of head*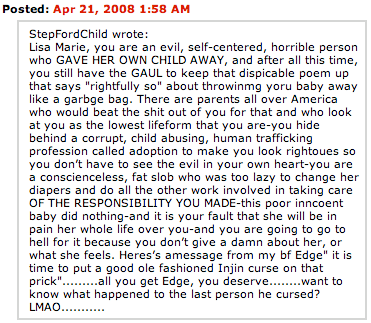 She's done this many times. It's her way of trying to instill fear and negativity on the other person, because negativity is what she lives with day in and day out. Claiming her boyfriend is a shaman, or just an American Indian (she claims French Canadian sometimes) doesn't justify telling people to drop dead, die of cancer, die in wars, and of course, die from native american death curses.
"I am part Native American myself and have studied (although not extensively) and I have never heard of Native Americans putting curses on people. Please talk to a spiritualist about this or a true Shamen. If you need to cleanse and clear negative energy from your aura or your home you can use white light and crystals........if you have any more questions please feel free to e-mail me. Some people just get caught up in the power of negative thinking and then their lives seem to take a dive for the worse."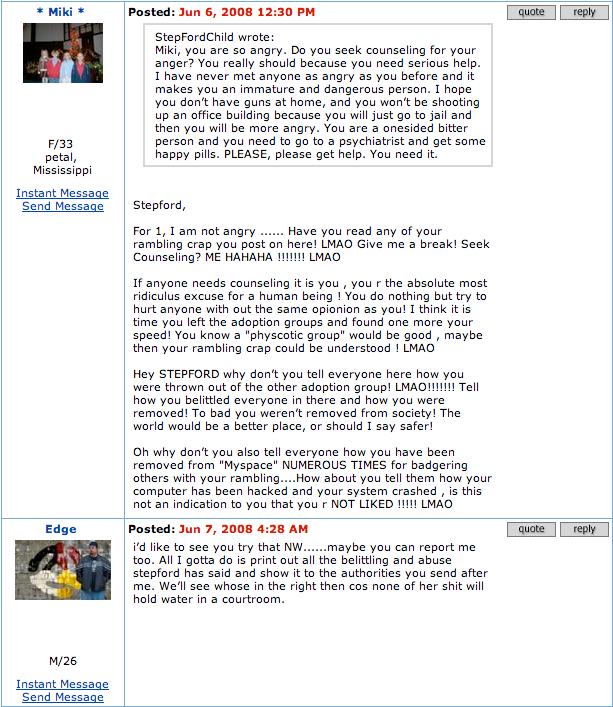 Sounds familiar again, yes?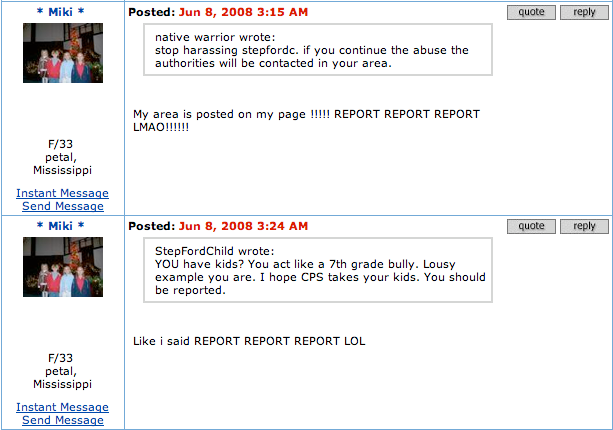 Read the comments she has been leaving me. The last few are proof that she is going for the gold ring of abuse, or just losing any control she had at all, if any. StepFord Child, GO AWAY.
Insanities on the Internets!: The Improper Adoptee Comments and Comments…