…she retaliated quite fast.
She visited both this blog and my personal blog, then went to her perverted and sick blog and posted a new entry, with copyrighted images she stole off my other site. She ignores the copyright notices. She has no regard for anything legal, for laws and for others' ownership of property. She gets off on this because she won't and can't post photos of herself — never has. She's really a coward in a wolf's costume.
You can't feel sorry for a woman like this; she knows what she is doing. This is a person with mental illnesses, BUT, she is methodically harassing me, my family — my father with stage 4 cancer AND my two (YES, 2) year old son — even after being sent the numerous
CEASE AND DESIST
notices, the copyright infringement notice and asked to stop in a cordial manner weeks ago. It's posted here on my blog; I left her a comment asking her to end this sick game. I don't think she wants to stop. She could, if she really and seriously wanted to. We have to assume she is really enjoying victimizing me and now my family, aside from the people I have worked for or with and even calling the advertising agency I do freelance with.
This is her game, and she plans her moves ahead of time. I can only ask so many times before I contact federal authorities. And I AM GOING TO.
These are other blogs The Improper Adoptee did.
"
SPOOKIE IS SCHIZOPHRENIC
" is her
third
attempt at an anonymous harassment blog.


Take note of her new profile. Read closely.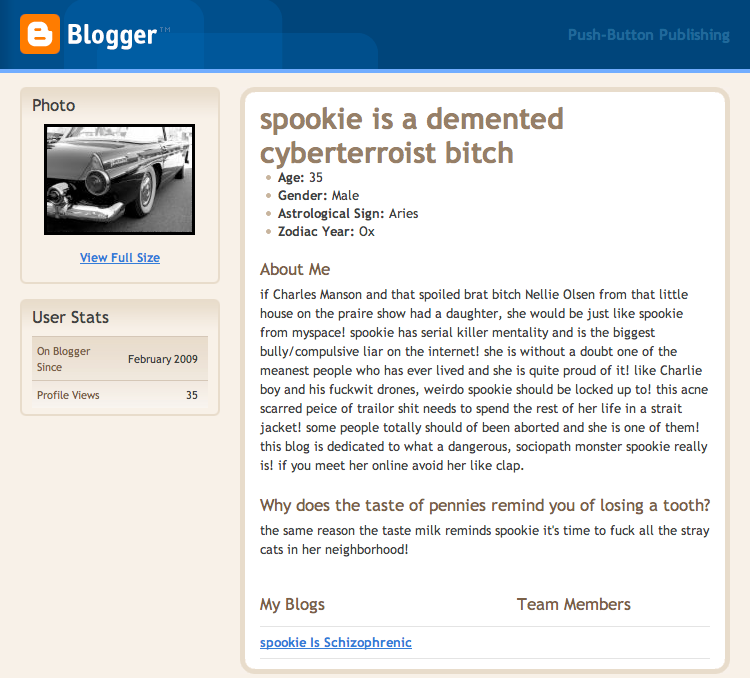 Illustration Credit: Alix Northrup, Ullman Design
To The Improper Adoptee:
CEASE AND DESIST.
STOP HARASSING, CYBERBULLYING
and THREATENING ME.
Click the link below in purple for information on
THE CYBERBULLY
Signs The Improper Adoptee is a Serial Bully
To Marilyn-The Improper Adoptee:
Cease and Desist the Libel and Cruelty
you display towards me. I've asked you for so many months, and through two winters now.
When my father was diagnosed with cancer, I asked you to end this sick game of yours, and I asked you privately. You didn't post my "please…" because it was too honest and it came from a place you don't have within you.
STOP ABUSING ME VIA THE INTERNET, STOP BULLYING ME AND STOP STEALING MY PHOTOS I POST THAT ARE SPECIFICALLY LABELED AS NOT FOR USE BY ANYONE ELSE, ESPECIALLY YOU. STOP YOUR CYBERPSYCHO BEHAVIOR TOWARDS ME.
I've documented every move you've made. I have proof. You? Nothing. You're an anti-semitic bigoted cyberpath abusive bully. You're going to go down and get listed on every blog that is about cyber-abuse and cyber-sickos across the United States and beyond.


Is this jealousy? Besides HATE, there must be more reasons for her abuse and seriously sick obsession.
Proving the Improper Adoptee is a FRAUD
HINT #1:
Sorry, Marilyn, I'd already documented this slip-up.