This is the "blogger" of the depraved blog called "spookie is Schizophrenic." This blogger's content contains bestiality, child exploitation, mockery of cancer victims, libel, defamatory hatred and other disgusting writings.
This is not two guys as the blog claims, but Marilyn McAboy.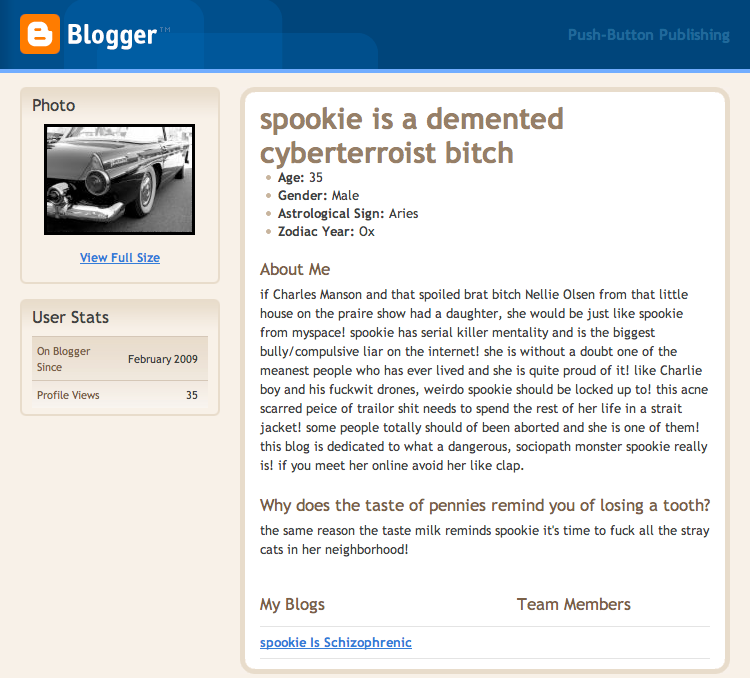 Isn't there another "t" in that word?

Hmmm. This image is taken from "The Improper Adoptee's" blog,
http://abolishadoption.blogspot.com/
Notice the spelling of terrorism. She can't spell it.

The above is from The Improper Adoptee's blog as well. One of her LABELS is the word "Cyberterroist."
See below, it's the LABELS from her anti-adoption blog.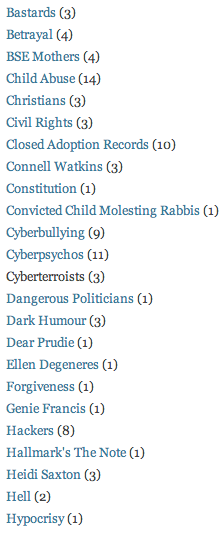 I've clicked the word to make it stand out.
What are the chances of "two jackass guys" who type in teenage txt msg shorthand making the same spelling error repeatedly on "their blog" as Marilyn McAboy's common spelling error on her blog and a common spelling mistake she makes on comments she leaves on others' blogs? SLIM TO NONE.
"Both bloggers" can't use the right form of the words "to" and "too" either. Another coincidence? HARDLY. I'll show a few instances in which both "The Improper Adoptee" and those "two dirtbag guys" who go by the name "spookie is a demented cyberterroist bitch" (oops, there's that misspelling!) misuse TO and TOO.
The Improper Adoptee can't spell "terrorist," she can't tell when to use "to" or "too"…
(Taken from The Improper Adoptee's blog @ abolishadoption.blogspot.com)


(Taken from her fake persona, the two dirtbag guys, @ spookieismentallyill.blogspot.com)

…she also types MySpace as two separate words on BOTH blogs. No one writes out "MySpace" as two words, except "The Improper Adoptee."
Marilyn McAboy!


LEAVE ME and MY FAMILY ALONE!!!
Cease and Desist the Libel and Cruelty you display towards me. I've asked you for so many months, and through two winters now.
I said PLEASE STOP.

When my father was diagnosed with cancer, I asked you to end this sick game of yours, and I asked you privately. You didn't post my "please…" because it was too honest and it came from a place you don't have within you.
STOP ABUSING ME VIA THE INTERNET, STOP BULLYING ME AND STOP STEALING MY PHOTOS I POST THAT ARE SPECIFICALLY LABELED AS NOT FOR USE BY ANYONE ELSE, ESPECIALLY YOU. STOP YOUR CYBERPSYCHO BEHAVIOR TOWARDS ME.
I've documented every move you've made. I have proof. You? Nothing. You're an anti-semitic bigoted cyberpath abusive bully. You're going to go down and get listed on every blog that is about cyber-abuse and cyber-sickos across the United States and beyond.
Why are you so jealous? Why can't you leave me alone? Why do you make fun of my father's battle with terminal cancer?!? What the hell is wrong with you?
Why do you steal images that are copyrighted and post them on a X-rated blog, pictures of my toddler, and make fun of him? Are you that mentally ill and that envious of me and my family to go that far? Besides HATE, there must be more reasons for your abuse and seriously sick obsession. You must be a very lonely and bitter woman.
That's NOT MY PROBLEM.
You're a sick, perverted psychopath to post images of my toddler and his name, and then say such horrible things about him. HE IS A LITTLE CHILD. I never, NEVER posted your daughter's name and NEVER posted images of her. YOU NEED MENTAL and EMOTIONAL HELP. You need to see a psychologist and a psychiatrist, regardless of your anti-psychiatry stance. YOU ARE A SICK WOMAN, and there is no shame in being mentally ill! You NEED MEDICATION! What you do, this harassment and abuse, and now the sexual deviance, the bestiality, the exploitation of a 26 month old toddler — you're a severely ill woman suffering with a very sick mind. GET YOURSELF THE HELP YOU DESPERATELY NEED.