Friday, July 31, 2009
THE IMPROPER ADOPTEE is signing me up for all sorts of SPAM now. I suppose that's all she thinks she can do, since she can't post sexually explicit and disgusting blogs anymore — at least not for now.

Yes, I'm getting boatloads of spam, and how do I know it's the work of The Improper Adoptee? Well, Marliyn isn't too swift. Some marketing spam actually tells you what IP you signed up from along with your email address. This information is posted at the bottom of the spam email, with the subscriber info and the information to unsub. It's not my IP. Guess whose IP it is. Anyone need a hint?
If you don't recall the sexually depraved blog entries The Improper Adoptee was writing for weeks, here's a reminder: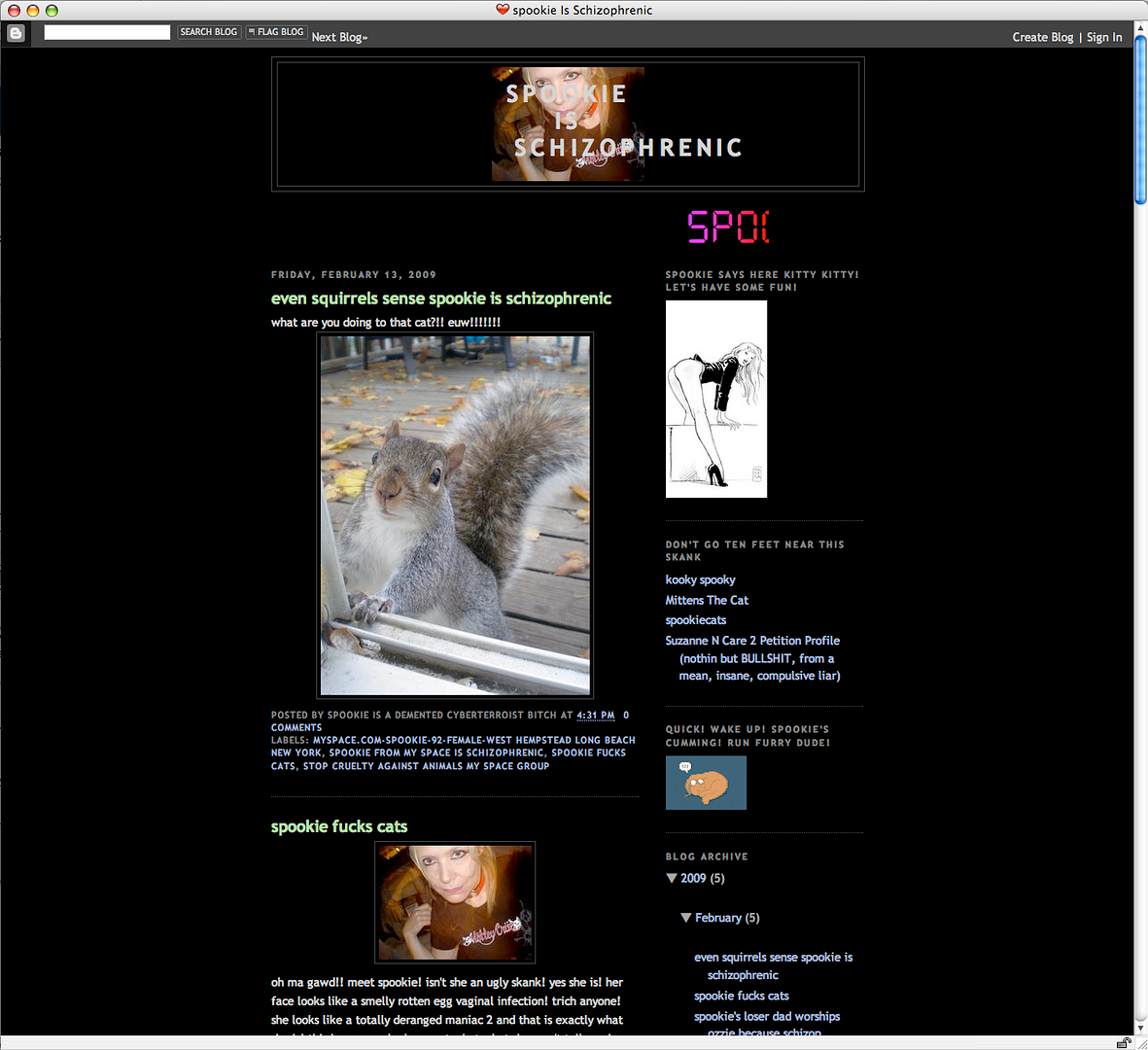 Only a SICK, CRUEL, EVIL and MENTALLY ILL WOMAN would even discuss bestiality and mock cancer. She went steps beyond; she then posted my toddler on the very same sex blog of hers. THIS IS A DEVIANT, A PREDATOR and A PSYCHOPATH.
Truthfully accounted by spookie at Friday, July 31, 2009 0 Comments and Feedback Links to this post    
Tags: aggravated harassment, Cyberbully, Harassment, kat mcaboy, Marilyn McAboy, sexual deviant, spammer, Stalker, The Improper Adoptee
Tuesday, July 28, 2009
Sunday, July 26, 2009
Friday, July 24, 2009
Saturday, July 18, 2009
Thursday, July 16, 2009
Tuesday, July 14, 2009