…why the sudden jump?!? WOW, I don't know why, but who cares!
So, what's up with spamming me?
Seriously now.
I know you have my email addresses; you've had my email for a long time. Why the sudden obsession with signing me up for stupid products and wasting your time going through the efforts to get me the spam for some of the crap you're having sent? You had to have put
hours of your time
into some of the spam you signed up for! It's rather mind-boggling, but then again, you must have more than one "issue" going on up in that noggin. What's wrong with you? Wait… we've been down that road before. Sheesh!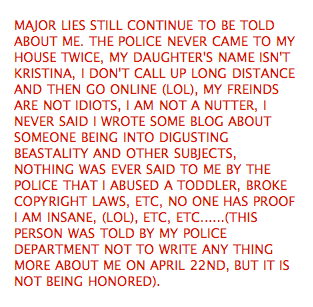 Oh, yes you did!
Goodness, why lie about it? It's
so
ridiculous. You were busted and you confessed to the police. What's the big deal? You know your friends must know you did it, so just fess up and get over it; you blogged about bestiality, you posted child expliotation and you posted anti-Semitism. Tip of the iceberg stuff. You did it, you did it and you did a lot more. Accept it and just admit it. I think you might actually believe your own lies, and that's pretty wacky.
As for Ms.
The Improper Adoptee
, this cracks me up! Satanic Troll! ha ha ha! This crap is TOO DAMN LONG!
ANNOUNCEMENTS AND DISCLAIMERS:



SPOOKIE IS A

SATANIC

TROLL THAT REFUSES TO GROW UP AND STOP LYING ABOUT ME AND AMY BURT, FOLLOWING AMY AROUND ON HER BLOGS, (LIKE HER NEW TEXAS OBC ONE) AND MAKING FUN OF EVERYTHING WE SAY LIKE A FIFTH GRADER. SPOOKIE WILL CONTINUE TO TRASH ME AS THERE IS NO FEDERAL CYBERBULLYING LAW AS OF YET TO MAKE HER STOP. SPOOKIE STARTED HARRASSING AND CYBERABUSING ME IN MARCH OF 2007 ON AN ANIMAL RIGHTS FORUM AND EVERYBODY KNOWS IT. SHE IS A HARMFUL, HATEFUL PERSON AND CAN NOT STOP MAKING FUN OF ME AND MY FEELINGS ABOUT ADOPTION BECAUSE SHE LOVES TO PUSH PEOPLE'S BUTTONS AND POUR ACID IN THEIR WOUNDS. MAYBE SPOOKIE HAS BRAIN DAMAGE TOO, WHO KNOWS. THIS MESSAGE WILL STAY UP UNTIL HER BLOG COMES DOWN ALONG WITH THE 3 OTHER RIDICULOUS BLOGS SHE HAS UP ABOUT ME, FULL OF LIES TOO, THAT HAVE BEEN UP FOR OVER A YEAR, ONE FOR OVER A YEAR AND A HALF. SPOOKIE IS THE ONE MAKING HER SELF LOOK BAD THE WAY SHE TALKS AND THE WAY SHE ACTS. I HAVE NOTHING FURTHER TO SAY ABOUT HER OR THE MANURE SHE SPEWS. IT SPEAKS FOR ITSELF AND I HAVE MORE IMPORTANT THINGS TO DO WITH MY TIME THAN READ HER IMMATURE BLOG AND FEED HER LACK OF CLASS TEMPER TANTRUM BY EVEN LOOKING AT IT. THIS IS DONE, LIFE IS TOO SHORT TO WASTE TIME ON DEMONS LIKE HER, SO DON'T WASTE YOURS AND AVOID HER ON THE INTERNET. SOME PEOPLE WERE JUST BORN TO MAKE CHAOS........ (EVERYTHING ELSE WRITTEN BELOW PERTAINING TO HER WAS WRITTEN BEFORE THIS ANNOUNCEMENT).



COMMENTS ARE BACK ON. ANY COMMENTS AT ALL FROM SPOOKIE AND HER FRIENDS WILL BE REPORTED TO THE POLICE HERE, AS NONE OF THEM ARE ALLOWED TO TALK TO ME ANY FURTHER.





ALL LINKS THAT INDICATE THAT AMY BURT AND I ARE BOTH, (LOL) MENTALLY ILL, PARANOID, SCHIZOPHRENIC, BI-POLAR, MEAN, SOULESS, EVIL AND LIE ALL THE TIME ARE UNTRUE AND RIDICULOUS.

(AND ARE DUE TO A BAD CASE OF CYBERBULLYING WE HAVE BEEN VICTIMS OF)




OTHER FALSEHOODS ARE STILL BEING SAID ABOUT US AS WELL. DITTO FOR ALL UNTRUE INSULTS GIVEN TO KALI COULTIAS AND UNGRATEFUL LITTLE BASTARD. NONE OF US ARE BITCHES EITHER....





THE ADOPTION INDUSTRY HOWEVER, WOULD LOVE FOR EVERYONE TO THINK THOSE AGAINST CLOSED ADOPTION ARE INSANE. MY ADOPTIVE BROTHER AND SISTER DIDN'T LIKE BEING TOLD THEY COULDN'T KNOW WHO THEIR REAL PARENTS WERE EITHER.....I GUESS THEY MUST BE WHACKED OUT PSYCHOTICS THEN......OMG!!GET THE RITALIN AND THORAZINE!! INSANE ADOPTEES ON THE LOOSE!! LMAO





MAJOR LIES STILL CONTINUE TO BE TOLD ABOUT ME.

THE POLICE NEVER CAME TO MY HOUSE TWICE, MY DAUGHTER'S NAME ISN'T KRISTINA, I DON'T CALL UP LONG DISTANCE AND THEN GO ONLINE (LOL), MY FRIENDS ARE NOT IDIOTS, I AM NOT A NUTTER,

I NEVER SAID I WROTE SOME BLOG ABOUT SOMEONE BEING INTO DIGUSTING BEASTALITY AND OTHER SUBJECTS, NOTHING WAS EVER SAID TO ME BY THE POLICE THAT I ABUSED A TODDLER, BROKE COPYRIGHT LAWS, ETC,

NO ONE HAS PROOF I AM INSANE, (LOL), ETC, ETC......



(THIS PERSON WAS TOLD BY MY POLICE DEPARTMENT NOT TO WRITE ANY THING MORE ABOUT ME ON APRIL 22ND, BUT IT IS NOT BEING HONORED).





AND NO, I DON'T EAT BACON.....(WHAT AN IMMATURE, EVIL LIE.......)





DARWIN LONG WHO I HAD A RESTRAINING ORDER ON FOR THREATENING TO KILL ME, STAY OFF MY BLOG,





FRANCIS MARTIN COSGROVE JR WHOM I HAVE A PERMANANT RESTRAINING ORDER ON FOR LIFE BECAUSE HE TRIED TO STRANGLE ME AND THREATENED TO KILL ME TWICE, ONCE WHEN I WAS PREGNANT WITH HIS KID, MUST ALSO STAY OFF OF MY BLOG.





EVERYONE ELSE WHO WISHES TO HARRASS ME STAY OFF MY BLOG AS WELL. GROW UP, FORGIVE, GET OVER YOURSELVES (YOU AREN'T THAT IMPORTANT...AND YES AP'S AND TACKY BROWBEATERS, THAT MEANS YOU TOO!)
OHMYGOD just shut up already! HAHA!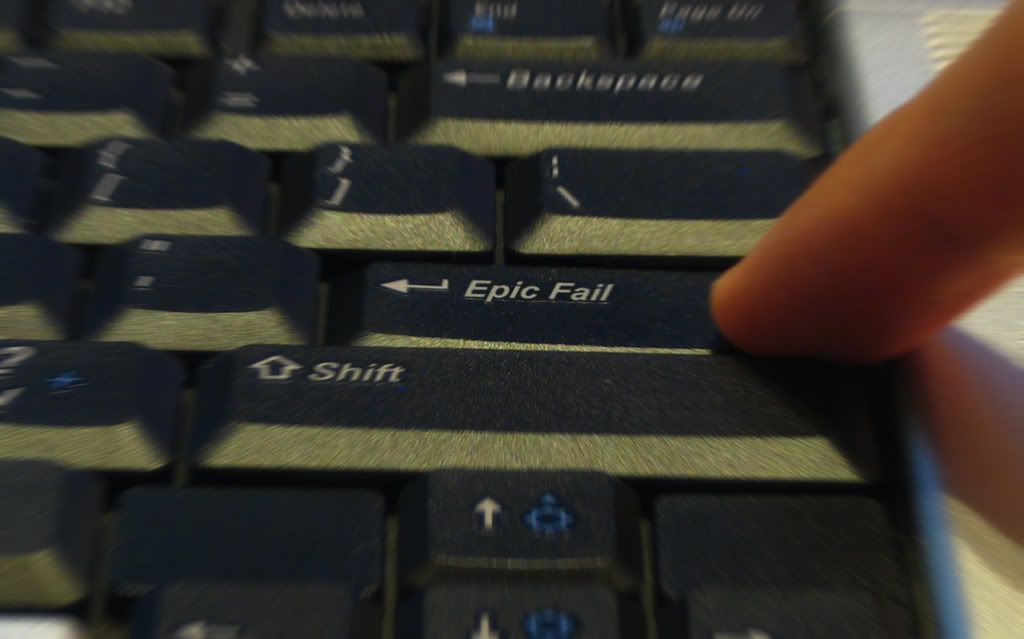 Get a new keyboard, Marilyn Mc EPIC FAIL. Everything you type is just utter nonsense and holds no credibility since you've lied so much and for long, and you have nothing to prove to back up your libel against ME, but I have a boatload to back up my truth of your abuse and harassment. You're a fabulous liar. Kudos!
Psst, IA…
Right back at you.

As for you long, babbling screed (which is actually funny because there is obviously a reason you need to take orders of protection out against dozens of people!!! I bet they are all glad you do!) Eh, yes, you are a bitch. In fact, a handful of you are. Fact. Only one of you was normal enough to just leave it be and not get involved. Amy is a total naive bitch, let's get that straight. The other one you mention, she just lied about the comments and the deletion issue, so she's just a dumb bitch. As for Kali, again, leave her alone and out of this already. Why do you insist on dragging her name along for years and years? And while mentioning her, why do you insist on putting her name like that? Why not post her name used for blogging? Too easy and too non-controversial? Yes, freak, she is the one who was normal enough to stay out of it. The others all backed you up like a bunch of blind sheep. Now that's it's said, are you happy? Get past it, you lunatic, and get the fuck over the fact that I don't read Amy's blogs. Sorry. I think her blogs suck. I read TDB now and then, but Amy's? Spare me, "Improper." Sure, I want to read about the latest blog ad she's touting for a few bucks. No thanks. I'm not interested in the products and services she pretends to like so she can make a few bucks to spend at the Dollar Store. Lastly, I don't care about her, period. You do. Brain damage? ha ha ha. Satanic, hateful, blah blah blah. You're a sick puppy. I learned enough about you in the few conversations with your local police officers. You're a fruitloop. Your name is known in the police dept. and not for positive reasons. I can post the dirt, but why? you'd just go off on a raging psychotic outburst and make up more libelous sick, depraved posts and comments and then cry wolf to your flock of sheep. Stalker pervert = you. Blech, gross!
Have fun stalking me, you creepy internet stalker psychopath. *shivers*