http://www.facebook.com/home.php?#!/lovebeingblack

Marilyn/The Improper Asshole says:
(AND IT'S AFRICAN AMERICAN, NOT "BLACK" YOU STUPID, DISRESPECTFUL BITCH)
But wait! Since when does some white nutcase decide what all people want to be referred as? Obviously, this bigoted, racist bitch is TRYING TOO HARD. She forgets that many of us caught her on MySpace long ago calling users bigoted names. She used very crude words towards a black group member and towards a woman of mixed race. The only people she seemed to ass-kiss were American Indians.

McAbnormal, look.



You were racist. Example ONE of MANY.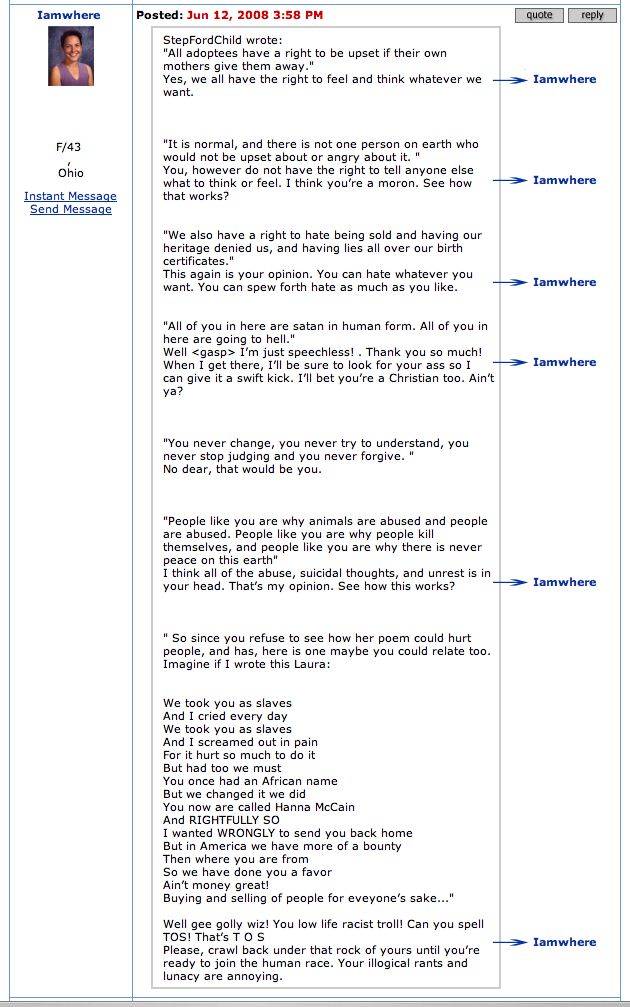 A BONUS example (remember this, "StepfordLunatic?"):
Edge
M/26
Instant Message
Send Message Posted: Jun 12, 2008 2:10
"Of course I would never, ever even want to write trash like that"
YOU JUST DID YOU FUCKING IDIOT!!!! I was nice but you having the audacity to actually type this shit is way too fucking far. I don't give two shits how you spin it and say Lisa Marie's poem did the same because it DID NOT. No one in here participates because of YOU, NOT because of that poem. Fuck you and you're whole fucking gene pool because you're nothing but slime looking for attention. Just get the fuck out of here and leave us alone

you racist pig

. You've been reported.
Now shut the fuck up. Bitch.