Seriously Marilyn, FUCK YOUR ADOPTION
.
I could care less. Anyone else, sure, I care, and would help them, but you? Fuck you and fuck your poor, pathetic adopted ass. I hope you were tossed away like trash. Happy now? Is that what you wanted? I hope it's what you've been looking for, for what, three fucking years, you psychobitch? I DON'T GIVE A SHIT ABOUT HUMAN ADOPTION TO THIS EXTENT, YOU LOSER. I'm an animal rights activist, you fucking fool! Animal adoption, GET IT? No, you don't, because YOU ARE THE TOWN CRAZY, just like the officers told me back when they had to go to your house to tell you to CUT THE CRAP.
Cyberbullies Come in All Shapes and Sizes.
Is The Improper Adoptee harassing YOU? She is mentally ill and will NEVER STOP. People like this should be forced to get help, to go to therapy and if needed, to be medicated. This woman is sick. I've not said a word about her or to her since February '10, and I only did back in February because she was still blogging about me, libeling me, posting her defamatory, derogatory crap to harass and abuse me via the internet. I stopped documenting this psychotic woman's abuse after I reported her to the Orleans, MA police. I've only posted blog entries when she has "updated" her March 2010 blog entry full of harassment towards me, and now it contains abusive content towards Amy Burt as well. It is not only hurtful and abusive towards Amy, but it puts Amy's children, both underage, in direct harm. That is selfish of Marilyn McAboy; to put children on the internet once again for her own self gain and attention whoring. Never should Marilyn put anyone's child on her blog, but she felt no remorse in putting my son on hers, when he was just a baby and and then as a toddler—and she included photos no less! Now she is exploting Amy's daughters, two girls who have enough going on in their lives than to have to possibly find out at school that someone Googled their mother's name and found out that a woman full of rage and hate blogged about their Mom and their Dad, and mentioned them in the blog. How wrong and how sad. Why kind of woman, a woman who is a mother herself, would abuse innocent children? The same woman who hates everyone in the world.
This woman is mentally ill, and the police in her local area basically said so. She was told to cut it out, and she did, for a while. She obviously has no self control. She hates herself. She hates Christians and Jews. She hates gays. She hates people of color. She hates authority. She victimizes everyone she can. She lives to hate.
Look how this woman sees herself. Look how deluded this woman is.
She suffers from a few disorders, one is obviously a psychotic disorder, another is a personality disorder. She is hateful, vengeful, and never kind and compassionate. She knows no boundaries.
Marilyn, or is it Kat? I hear you lost EVERY ONLINE FRIEND YOU HAD. Gee, I wonder why. Because you're a nut, possibly? A pushy, selfish nut?
If Vicki (Vickie? I forgot how you spell it, sorry. I can't find your signature in the letters you sent to my friend in the city) should read this, it would be nice if she did everyone a huge favor and made it clear that she is not me.
Vickie, this mental case called Improper Adoptee seems to think I am you, and as we all know, you are you! Would you please, somehow, contact this deluded bullying creep and let her know that you and I are two different people? Here's her emails, well, the last ones I have for her. This lunatic changes her emails and phone number all the time, because she is a paranoid delusional. I kid you not. She changes these things more than her underwear. :D
READERS:

Is this woman harassing you in any way?
Contact us at this blog. She's harassing me, Amy and others. We want to hear your story.
You can contact us anonymously. Set up a new email account if you would like to remain anonymous. This woman is relentless. She never stops. Tell your story.
Email contact is on the Blogger Profile.
Marilyn, it was April 7th 2011, not March 2010. Stop being a freak and make a new blog entry—you're fooling NO ONE.


Marilyn, updating the old blog entry doesn't mean you aren't blogging. Idiot. And p.s. try leaving Amy alone. Your emails, like the one your titled "Judas" to her? She deleted them UNREAD. You were no friend to her. You were and always will be nothing but a selfish, self-hating loser. You've wasted your entire life in misery, hate and pity. Boo hoo. Now you're old, alone and nothing. You're jealous, too. You're lealous of me and you're jealous of Amy. The laughs are on you. Ha ha ha!
Wednesday, March 17, 2010
****LAST RECENT UPDATE****(UNLESS SPOOKIE MAKES UP MORE NEW LIES ABOUT ME)
(ALL UPDATE REMARKS ARE IN RESPONSE TO SPOOKIE'S CONTINIOUS CYBERBULLYING AND LIBELOUS POSTS ABOUT ME THAT SHE REFUSES TO STOP WRITING).
WELL IT IS April 7th, 2011, WELL OVER A YEAR SINCE SPOOKIE FIRST STARTED LYING ABOUT ME GETTING VISTIS FROM THE POLICE WHICH NEVER HAPPENED AND HOW SHE WOULD HAVE ME THROWN IN JAIL FOR CALLING HER A HACKER, WHICH NEVER HAPPENED EITHER. (OF COURSE, LOL. CAN ANYONE SAY BEYOND IMMATURE, BRAZEN, LOUDMOUTH, BULLY DRAMA QUEEN? SPOOKIE WAS BORN A LOSER, AND SHE WILL ALWAYS BE A LOSER. THAT IS ALL SHE IS CAPABLE OF BEING. THE POOR PSYCHOTIC TWIT. HER LATEST VICTIM, A WOMAN NAMED LISA WHO SPOOKIE NEVER MET IS BEING TORTURED BY HER NOW. THIS IS HOW SPOOKIE OPERATES. SHE JUST RANDOMLY CYBERTORMENTS PEOPLE WHO OTHERS DISLIKE, EVEN THOUGH THEY DID NOTHING TO HER. JUST LIKE SHE HAS LIED TO AMY AND PUTS ON THIS BIG ACT THAT SHE IS HER FRIEND AND WILL HELP HER DESTROY THIS WOMAN WHO IS SEEING HER EX-HUSBAND. I DO FEEL SORRY FOR AMY THAT HER MARRIAGE DIDN'T WORK OUT, BUT IF I WAS GETTING A DIVORCE, I WOULDN'T TALK ABOUT IT ON THE INTERNET. I AM NOT THE ONLY ONE WHO HAS SAID THAT TO AMY. I WOULDN'T CUT DOWN JUDGES ONLINE EITHER. YOU NEVER KNOW WHO IS FRIENDS WITH WHO IN THIS WORLD.... AND PERSONALLY I HOPE LISA SUES SPOOKIE FROM HERE TO HELL FOR CYBERABUSING HER SO BADLY. SHE WOULD WIN TOO. WHAT AMY'S EX-HUSBAND DID OR DID NOT DO, I DON'T WANT ANY INVOLVEMENT IN, NOR WILL I STATE AN OPINION ON, BUT IT ISN'T LISA'S FAULT DON'S MARRIAGE ENDED AND SHE DOESN'T DESERVE TO BE VERBALLY EXECUTED BY SPOOKIE. THIS IS WHY EVERYONE SHOULD STAY AWAY FROM THIS INFANTILE PERSON. SHE IS JUST A BIG MOUTH, NOSY, TABLOID IN HUMAN FORM WITH NO CLASS WHAT SO EVER. SINCE IT HAS BEEN A YEAR SINCE SHE TOLD TALL TALES ABOUT ME, I WILL STOP UPDATING ON WHAT A LIAR SHE IS, AS IT IS VERY OBVIOUS SHE IS ONE, SO MY WORK IS DONE :) SPOOKIE WILL CONTINUE LYING 24/7 HOWEVER, BECAUSE THAT IS ALL SHE HAS THE MATURITY TO DO. ESPECIALLY SINCE SHE HAS POOR AMY CONNED THAT SOMEONE NAMED VICKI IS AFTER HER TOO. THIS FAUX PERSON CONTACTED HER HUSBAND AND OTHER BLOGGERS, BUT I THINK WE ALL KNOW THIS IS JUST ANOTHER ONE OF SPOOKIE'S SCAMS. FOR THAT IS THE ONLY TRUE TALENT SHE HAS. SETTING PEOPLE UP AND DRAWING THEM INTO HER BLACK WIDOW SPIDER WEB. GET IT? WEB. :) LOL).
AND GOLLY, I WAS SO SCARED....ALL THIS PAST YEAR. NOT. LOL. LITTLE MISS KOOKIE SPOOKIE (AND SINCE SHE CALLS ME "THE BASTARD" IN A RECENT POST, WHICH IS A BIGOTED REMARK AND SHOULD BE ILLEGAL, KOOKIE IS VERY FITTING, ESPECIALLY SINCE SHE STARTED CALLING AMY AND I "KOOKS" FIRST) JUST HAD TO HAVE A BIG, FAT TEMPER TANTRUM ALL OVER THE WEB BECAUSE SHE CAN'T CONTROL THE POLICE. POOR BABY....
SO SHE CONTINUES STILL, NOW, TO LIE ABOUT ME ADMITTING TO WRITING A BLOG THAT SAYS SHE IS INTO DIGUSTING BEASTALITY. A SUBJECT THE POLICE DIDN'T EVEN DISCUSS WITH ME WHEN I SPOKE TO THEM IN APRIL 2009 (WHEN I WAS TOLD SPOOKIE WOULD BE TOLD TO TAKE DOWN HER POSTS AND STOP WRITING NEW POSTS ABOUT ME) ABOUT A BLOG I SAID TO THEM I NEVER WROTE AND NEVER ADMITTED TO THEM THAT I WROTE LIKE SHE IS SAYING I DID (AND IF I DID ADMIT I WROTE THAT BLOG, WOULD I SIT HERE AND LIE ABOUT THAT NOW? DUH. OF COURSE NOT). SHE ALSO CONTINUES TO LIE ABOUT THE POLICE COMING TO MY HOUSE TWICE WHICH THEY DID NOT AND MY SAYING I STARTED THE CYBERBULLYING WHICH I DID NOT DO EITHER. I TOLD THE POLICE I DID NOT WRITE THAT BLOG AND THEY LEFT IT AT THAT AND SHE JUST CANNOT STAND THAT. OR THAT I HAVE EVERY RIGHT TO ACCUSE HER OF HACKING ME IF I WANT TOO. SO HENCE HER CURRENT HYSTERICAL RANTINGS ABOUT ME AND AMY BURT ALL OVER THE INTERNET, CONTINUING TO CALL US NAMES THAT ARE TOTALLY A FORM OF CYBERBULLYING.
IF SPOOKIE CAN NOT GET WHAT SHE WANTS, THEN SHE JUST STARTS LYING TO MAKE IT SEEM LIKE SHE GOT WHAT SHE WANTED. WHAT A THREE YEAR OLD.....
**********SPOOKIE ALSO PURPOSELY NEVER TALKS ABOUT THE MYSPACE GROUP SHE PUT UP TO CYBERBULLY ME TWO YEARS AGO THAT MYSPACE TOOK DOWN BECAUSE IT WAS ABUSIVE.
***********SHE NEVER TALKS ABOUT HOW AFTER SHE SENT ME THAT RUDE EMAIL ON MYSPACE I NEVER TALKED TO HER (FOR LIKE 3 WEEKS) UNTIL SHE STARTED CYBERBULLYING ME ON AN ANIMAL RIGHTS FORUM BY MAKING FUN OF MY TRADER JOE'S POST, INDICATING THAT I WAS STUPID, MOCKING HOW I WRITE AND LAUGHING AT ME. SHE NEVER ACKNOWLEDGES THE FACT THAT AFTER SHE WAS REALLY MEAN TO ME ABOUT INFORMING PEOPLE THAT SO- DELICIOUS WAS NOW BEING MARKETED UNDER THE TRADER JOES LABEL, I WASN'T EVEN RUDE BACK TO HER. OR THAT AFTER I REPLIED TO HER, SHE STARTED RIPPING ME APART, AND CYBER BEATING THE HELL OUT OF ME.
********** SHE NEVER SAID SHE WAS SORRY FOR PICKING ON ME IN THE FIRST PLACE BY MAKING FUN OF MY POST ON TRADER JOE'S EITHER.......WHICH SHE SHOULD HAVE.
SPOOKIE ALSO LIES ABOUT WHAT I SAID AS STEPFORD CHILD. AND I DID NOT SAY MOST OF WHAT SHE HIGHLIGHTS ON HER BLOG. SHE IS A GRAPHIC ARTIST AND CREATED SOME OF THESE IMAGES HERSELF WHILE OTHERS MADE FAKE MYSPACE STEPFORD CHILD ACCOUNTS PRETENDING THEY WERE ME AND THEN THEY DELETED THE ACCOUNTS CONSTANTLY. I WAS ALSO PHISHED A FEW TIMES TOO. AND MY ORIGINAL ACCOUNT WAS HACKED. JOHN GREENE IS ALSO A VERY BULLYISH TYPE OF PERSON AS ALL OF THEM ON THAT FORUM WERE, AND ALL OF THEM STARTED RIPPING ME APART BECAUSE I CRITICIZED A POEM WRITTEN SOLELY TO PROMOTE THE CORRUPT SYSTEM CALLED OPEN ADOPTION. I WAS TOLD FROM SOMEONE TOO WHO MET JOHN GREENE AT THE PROTEST LAST YEAR HE HAD A VERY AGGRESSIVE PERSONALITY, HE WAS A MAJOR TURN OFF AND THIS PERSON FELT AFRAID OF HIM AND DID NOT LIKE HIM. OTHERS FELT THAT WAY AS WELL. AND MOST ADOPTEES CAN'T STAND JOHN GREENE EITHER BECAUSE HE PLAYED A PART IN DRAFTING A DIRTY OPEN RECORDS BILL IN RHODE ISLAND. HE IS KNOWN AS A BENEDICT BASTARD....SO WHO THE HELL CARES WHAT HE THINKS ABOUT ANYONE. I STILL HAVE THE EMAIL FROM THE PERSON WHO TOLD ME THEY WERE NOT IMPRESSED WITH GREENE AT THE PROTEST TOO. DITTO FOR ADOPTED JANE. I'VE ALSO HEARD AN EARFULL ABOUT HER ...AND EVERYONE KNOWS THAT CERTAIN SEARCH ANGEL'S ON MYSPACE ARE CONNECTED TO ADOPTION AGENCIES AND MANY PEOPLE TOLD ME AS WELL THAT MOST OF THE NATURAL MOTHERS WHO SAY THEY GAVE UP THEIR KIDS IN OPEN ADOPTION AND ARE ALL HAPPY ABOUT IT, LIKE THE ONES WHO ATTACKED ME ARE FROM THE NCFA AND ARE INVOLVED IN THE ADOPTION INDUSTRY, SO I WILL CONSIDER THE SOURCE..ESPECIALLY SINCE SPOOKIE SAID HERSELF SHE WAS SENT BY PEOPLE EQUATED WITH THE ADOPTION INDUSTRY... IT AMAZES ME THAT SPOOKIE CAN ACTUALLY THINK THE WAY SHE ACTS IS PERFECTLY FINE....WHAT A HYPOCRITE! I MEAN REALLY, WHAT KIND OF EXAMPLE DOES SHE SET? AN EYE FOR AN EYE LEAVES THE WHOLE WORLD BLIND....TOO BAD SHE IS TOO UNINTELLIGENT TO UNDERSTAND THAT....AND GEE IT MUST OF TAKEN HER A LONG TIME TO WRITE ALL THOSE POSTS, RESPONSIBLE MOTHERS OF 3 YEAR OLDS DON'T SPEND THAT MUCH TIME ON THE INTERNET. AND SPOOKIE SPENDS MORE TIME ONLINE THAN DOING ANYTHING ELSE AS ONE CAN TELL FROM ALL SHE HAS OUT THERE. IT IS SAD SHE LOVES HER COMPUTER AND CUTTING ME DOWN MORE THAN SHE LOVES BEING WITH HER SON AND DOING ALL THE WORK THAT NEEDS TO BE DONE TO TAKE CARE OF A CHILD......TIME AND WORK THAT IF DONE RIGHT LEAVES NO TIME FOR BEING ON THE INTERNET AS MUCH AS SHE IS........AND HOW DOES SHE KNOW HOW MANY ALTERATIONS I HAVE MADE TO MY NEW BLOG LAYOUT? BECAUSE SHE IS ON MY BLOG 24/7 AND SHE NEVER EVER LEAVES!!! SHE HAS IT UP ALL DAY LONG! ALL NIGHT LONG TOO! AND I KNOW THAT BECAUSE MY STAT COUNTER TELLS ME SO. ISN'T THAT STALKING BEHAVIOR? DAMN STRAIGHT......
**********SO WHAT IS THE EXPLANATION FOR HER CYBERBULLYING BEHAVIOR THAT SHE SPEWED ON ME ON THAT ANIMAL RIGHTS FORUM? SHE WAS WRONG TO TREAT ME THAT WAY AND SHE HAS YET TO ADMIT THAT.
**********ALL I DID WAS FIGHT BACK . AND SHE CALLS THAT STALKING AND CYBERBULLYING. PFFT.
**********ISN'T SHE THE POT CALLING THE KETTLE BLACK. SHE STARTED THIS WHOLE WAR.
**********AND SHE ALSO PICKED ON OTHER PEOPLE LIKE CASSI, JOY, GERSHOM, AMY, ULB, AND MANY MORE WHILE SHE WAS CYBERKILLING ME. YET I HAVE NEVER PICKED ON ANY OF HER "FRIENDS" AND NO ONE ELSE IS COMPLAINING ABOUT ME BUT HER.
**********WHY? BECAUSE I WAS SET UP......SHE HAS DONE ALL OF THIS ON PURPOSE. BECAUSE I QUOTED CHRIST IN MY MYSPACE AND SHE HAS SAID SHE "HATES ALL THIS CHRISTIAN CRAP".
**********AND BECAUSE IMMORAL AND DANGEROUS PEOPLE WHO I HAVE GOTTEN IN TROUBLE AND CRITICIZED IN THE PAST ONLINE AND OFF WANT REVENGE ON ME BECAUSE THEY ARE IMMATURE, SELFISH, GREEDY, VIOLENT, MENTALLY DISTURBED AND CONSCIENCELESS SPOILED BRATS. AND THEY TOLD HER TO DO THIS TO ME......
AND BECAUSE OF ADOPTION TROLLS ON THE INTERNET.....
You're the reason there are trolls, "Kat." If not for you, trolls never would've come to be. It's a fact. You're so miserable, and trolls feed on your negative energy.
SUNDAY, FEBRUARY 20, 2011
Don't think for a moment I've forgotten. As long as your vile spew, libel and HATE remains on your shit blog, I will remind THE WORLD what a fake, narcissistic bully you are. You're no victim, you're an abuser!
Remember this piece of your "work," Ms. McAboy? Well, I do.
You'll go to HELL for this crap. I promise.
(below is the writings of Marilyn McAboy)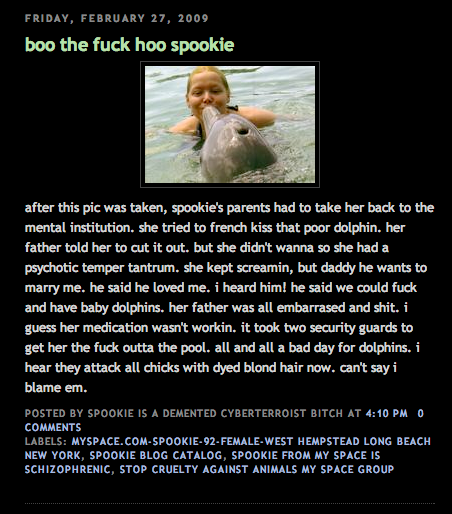 …she retaliated quite fast.
She visited both this blog and my personal blog, then went to her perverted and sick blog and posted a new entry, with copyrighted images she stole off my other site. She ignores the copyright notices. She has no regard for anything legal, for laws and for others' ownership of property. She gets off on this because she won't and can't post photos of herself — never has. She's really a coward in a wolf's costume.
Above blog entry written by "Kat" aka The Improper Adoptee, aka Marilyn.
You can't feel sorry for a woman like this; she knows what she is doing. This is a person with mental illnesses, BUT, she is methodically harassing me, my family — my father with stage 4 cancer AND my two (YES, 2) year old son — even after being sent the numerous

CEASE AND DESIST

notices, the copyright infringement notice and asked to stop in a cordial manner weeks ago. It's posted here on my blog; I left her a comment asking her to end this sick game. I don't think she wants to stop. She could, if she really and seriously wanted to. We have to assume she is really enjoying victimizing me and now my family, aside from the people I have worked for or with and even calling the advertising agency I do freelance with.
This is her game, and she plans her moves ahead of time. I can only ask so many times before I contact federal authorities. And I AM GOING TO.
These are other blogs The Improper Adoptee did.
"
SPOOKIE IS SCHIZOPHRENIC
" is her
third
attempt at an anonymous harassment blog.


Take note of her new profile. Read closely.
Read "
THE IMPROPER ADOPTEE
" after. You'll see why…keep your eyes open.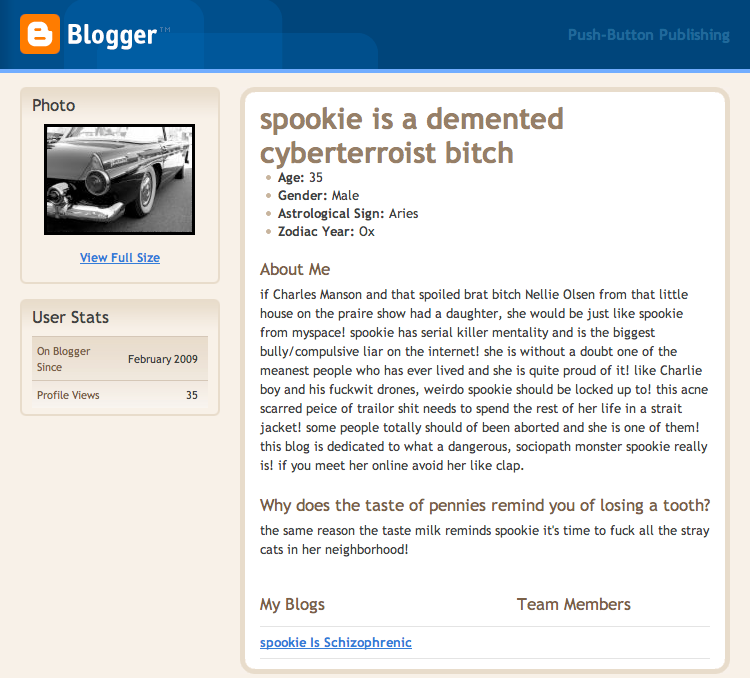 Illustration Credit: Alix Northrup, Ullman Design
To The Improper Adoptee:

CEASE AND DESIST.
STOP HARASSING, CYBERBULLYING
and THREATENING ME.
Click the link below in purple for information on
To Marilyn-The Improper Adoptee:
Cease and Desist the Libel and Cruelty

you display towards me. I've asked you for so many months, and through two winters now.
When my father was diagnosed with cancer, I asked you to end this sick game of yours, and I asked you privately. You didn't post my "please…" because it was too honest and it came from a place you don't have within you.
STOP ABUSING ME VIA THE INTERNET, STOP BULLYING ME AND STOP STEALING MY PHOTOS I POST THAT ARE SPECIFICALLY LABELED AS NOT FOR USE BY ANYONE ELSE, ESPECIALLY YOU. STOP YOUR CYBERPSYCHO BEHAVIOR TOWARDS ME.
I've documented every move you've made. I have proof. You? Nothing. You're an anti-semitic bigoted cyberpath abusive bully. You're going to go down and get listed on every blog that is about cyber-abuse and cyber-sickos across the United States and beyond.
Is this jealousy? Besides HATE, there must be more reasons for her abuse and seriously sick obsession.
Proving the Improper Adoptee is a FRAUD
Sorry, Marilyn, I'd already documented this slip-up.

Wednesday, March 17, 2010
****SECOND RECENT UPDATE****
(ALL UPDATE REMARKS ARE IN RESPONSE TO SPOOKIE'S CONTINIOUS CYBERBULLYING AND LIBELOUS POSTS ABOUT ME THAT SHE REFUSES TO STOP WRITING).
WELL IT IS THE FIRST DAY OF FEB, 2011 AND I HAVE NOT BEEN CONTACTED BY THE POLICE FOR CALLING VICKI, I MEAN SPOOKIE/ SPOOKIECATS/MITTENS THE CAT A HACKER WHICH SHE IS. GEE, I HAVE BEEN WAITING SINCE FEBRUARY 28TH OF LAST YEAR!!!!!!!!!!, 2010, WHEN THE COMPULSIVE LIAR STARTED TO ANNOUNCE ALL OVER THE INTERNET THAT THEY WERE COMING HERE AND I WAS GOING TO JAIL!!! (THE LOSER STILL HAS THIS UP ON HER CARE2 SITE!! CAN ANYONE SAY SOUR GRAPES..)(& NOW SHE HAS POOR AMY CONNED THAT SOMEONE NAMED VICKI IS AFTER HER TOO. THIS PERSON CONTACTED HER HUSBAND AND OTHER BLOGGERS, BUT I THINK WE ALL KNOW THIS IS JUST ANOTHER ONE OF SPOOKIE'S SCAMS AND SO IS SPOOKIE PRETENDING TO BE AMY'S "FRIEND". LEFTIST PIGS LIKE SPOOKIE ARE BEYOND IMMATURE....)
UPDATE: Also see
The Improper Adoptee, also known as The Online Terrorist.
Marilyn McAboy, aka The Improper Adoptee.